18/10/2021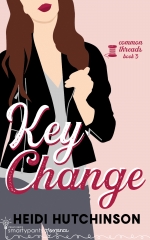 de Heidi Hutchinson (2021) Smartypants Romance

Résumé : Before Hannah was a 9-5 working, dinner making, homebody, she was Ashton James: a paparazzi-stalked pop star with more enemies than friends. These days she has one priority: keeping her sister safe and away from the public eye. Hannah was doing a great job, until the pesky little brother of an ex-fling discovers where she is, and wants her help launching his career.

Now she has to trust Johnny—whom she betrayed in more ways than one—to protect her whereabouts. Johnny may have an infuriating moral compass and the timing of a storybook hero, but is he immune to the temptation of revenge?

Johnny's focus has always been his music business, and a bad influence like Hannah is the last thing he needs at work, or around his brother. But some things are too powerful to be stopped. For someone like Hannah, second chances—in life and in true love—don't exist. She didn't think so, at least.

Johnny is about to prove her wrong, and being wrong has never felt so right.


Ici nous avons une romance de deuxième chance avec deux héros qui ont chacun touché le fond avant de reconquérir leur vie pour en faire quelques chose de bien. Enfin ça c'est surtout du côté d'Hanna.

Hannah a été une rockstar surdouée de la musique, mais un scandale filmé a stoppé net sa carrière. 2 ans plus tard, Hannah a boulot un dans un SAV client par téléphone, c'est pas terrible mais ça l'aide à subvenir au besoin de sa jeune soeur dont elle a la garde. Sa sécurité passe avant tout, alors quand un jeune ado chante une de ses chansons dans le métro, la première réaction d'Hannah est de trouver qui il est et de lui proposer un pot-de-vin pour son silence. Grâce à son service de sécurité (Quinn et Alex huhuhu), elle arrive à savoir qui il est se pointe chez lui.

Mais là, quand la porte s'ouvre, c'est Johnny le grand-frère qui l'accueil. Et Johnny, lui aussi la connait... et Hannah ne semble pas se rappeler de lui. Il y a quelques années, il était musicien sur son premier album, ils ont eu une aventure, des promesses non tenues, il s'est fait remercier... Hannah ne se rappelle pas, car à cette époque elle était à moitié alcoolisée...

Bref, Johnny n'accepte pas le pot-de-vin, et par un concours de circonstance, va demander à Hannah de travailler avec lui dans son studio d'enregistrement sur l'album du nouveau rappeur du moment. Hannah va reprendre goût à la création musicale, Johnny va retomber amoureux. Ces deux là n'ont plus rien à se prouver, ils savent les erreurs qu'ils ont commis et se donnent une 2e chance parce que la 1ère s'est finie avant même de commencer.

Mention spéciale aux petits frère et soeur de nos héros qui se mêlent de la vie de leur aîné.e respectif ^^

Je pense que ça doit être hyper dur d'écrire sur la musique et fait imaginer au lecteur le talent des personnages. Autant, j'applaudis Heidi Hutchinson pour avoir très bien décrite son héroïne avec la musique dans son ADN, autant j'ai pas trouvé très crédible le fait qu'Hannah qui est un genre de Beyoncé/Lady Gaga, puisse passer à l'anonymat le plus complet (car même ses collègues de boulot de la reconnaissent pas...) mais bon c'est un détail xD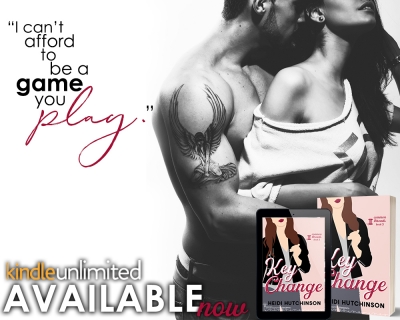 Here we have a second chance romance with two heroes who hit rock bottom before reclaiming their lives to do something good. Well, that's mostly the story of Hanna.

Hannah was a gifted music rockstar, but a filmed scandal brought her career to a halt. 2 years later, Hannah has a job in a customer after-sales service by telephone, it's not terrible but it helps her provide for her young sister, whom she has care for. Her safety comes first, so when a young teenager sings one of her songs in the subway, Hannah's first reaction is to find who he is and offer him a bribe for his silence. Thanks to her security team (Quinn and Alex huhuhu), she manages to find out who he is and shows up at his house.

But there, it is Johnny the big brother who welcomes her. Johnny knows her... and Hannah doesn't seem to remember him. A few years ago, he was a musician on her first album, they had an affair, some broken promises, he was fired... Hannah does not remember, because at that time she was half drunk most of the time...

In short, Johnny doesn't accept the bribe, and through a chain of events, will ask Hannah to work with him in his recording studio on the album of the new rapper of the moment. Hannah will regain a taste for musical creation, Johnny will fall in love again. These two have nothing more to prove to each other, they know the mistakes they made and give themselves a second chance because the first one ended before it could even start.

Special mention to the little brother and sister of our heroes who are involved in the life of their respective eldest ^^

I think it must be super hard to write about music and make the reader imagine the talent of the characters. As much, I applaud Heidi Hutchinson for having described her heroine very well with music in her DNA, but I did not find very credible the fact that Hannah who is like a Beyoncé/Lady Gaga, can go to being a nobody (because even her colleagues at work do not recognize her...) but hey it's a detail xD
Find Heidi online
Facebook : https://www.facebook.com/heidirhutchinson
Website : https://www.heidih.net/
Instagram : https://www.instagram.com/heidi_hutchinson/
Connect with Smartypants Romance
Facebook: http://bit.ly/2kvDnb4
Twitter: http://bit.ly/2lzyduO
Amazon: https://amzn.to/2lGdIMQ
Instagram: http://bit.ly/2kwKsYK
Website: https://smartypantsromance.com/
Newsletter: https://smartypantsromance.com/newsletter/
08:00 Publié dans Silence in the Library | Lien permanent | Commentaires (0) | Tags : heidi hutchinson, key change, smartypants romance |
Facebook
11/10/2021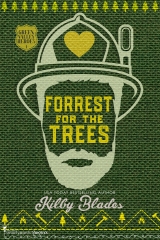 de Kilby Blades (2021) - SmartyPants Romance

Résumé : Forrest Winters isn't just a federal fire marshal; he's a thorn in Ranger Sierra Betts's side. The way he swings his big axe, fixes her with his chameleon gray eyes, and talks about his jurisdiction has a way of breaking her concentration. He has a way of showing up everywhere he doesn't belong, including Greenbrier Ranger Station. And he really needs to quit stealing her bacon bites.

When a series of suspicious fires, an underhanded co-worker, and a cagey Parks Police Chief threaten her job and the park itself, Sierra grudgingly agrees to partner with Forrest. Their side investigation may be her best shot at preventing the framing of an innocent man. But can his firefighting expertise and her detective skills lead them to the real arsonist before Forrest breaks her with his charm ?


Forrest et Sierra travaillent ensemble, lui est Fire Marshal (en gros c'est le chef du service qui enquête sur les incendies criminels, je sais même pas si on a un équivalent en France, bref) et elle est une Park Ranger, donc en été ils sont forcément amenés à se croiser, d'autant qu'il y a eu 3 incendies dans le parc en quelques semaines et qu'il n'y a toujours pas de suspect.

Pour Forrest, trouver le coupable est une question de bon sens pour la sécurité du parc. pour Sierra, trouver qui déclenche des feux dans sa section du parc sera en plus déterminant pour son avenir professionnel : certains de ses collègues cherchent à l'évincer d'une possible promotion pour leur bénéfice personnel, et en plus au détriment de l'enquête. Forrest et Sierra décident donc de mener cette enquête en toute discrétion, car visiblement ils sont les seuls à prendre la protection du parc au sérieux...

Plus ils avancent dans leur enquête, plus cela devient dangereux non seulement à cause du pyromane, mais aussi pour ce qu'ils sont arriver à représenter pour l'autre. Leur relation se base sur une admiration mutuelle : ils exercent tous les deux un métier-passion, des valeurs et une vision de la vie tournée dans le même sens. Leurs sentiments n'en seront que plus intense et plus fort.

Ce livre fait partie de mes préférés pour le moment, tant par l'intrigue que la romance.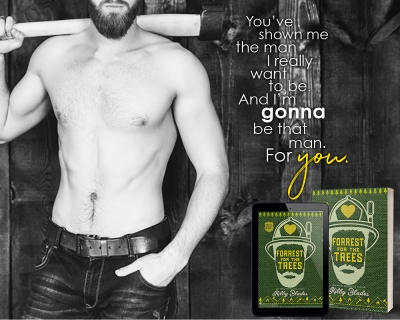 Forrest and Sierra work together, he's the Fire Marshal and she's a Park Ranger, so in summer their path are crossing, especially since there have been 3 fires in the park in a few weeks and there is still no suspect.

For Forrest, finding the culprit is a matter of common sense for park safety. for Sierra, finding out who sets off these fires in her section of the park will also be decisive for her professional future : some of her colleagues seek to oust her from a possible promotion for their personal benefit, and to the detriment of the investigation. Forrest and Sierra therefore decide to conduct this investigation discreetly on their own, because they seem to be the only ones to take the protection of the park seriously...

The more they advance in their investigation, the more dangerous it becomes not only because of the arsonist, but also for what they have come to represent for each other. Their relationship is based on mutual admiration : both their jobs is a passion, their values ​​and a vision of life are the same. Their feelings will only be more intense and stronger.

This book is one of my favorites at the moment, both for the intrigue and the romance.
Find Kilby Blades online
Facebook : http://www.facebook.com/kilbybladesauthor
Twitter : http://www.twitter.com/kilbyblades
Amazon : https://www.amazon.com/Kilby-Blades/e/B01N4770M0
Instagram : http://www.instagram.com/kilbyblades
BookBub : https://www.bookbub.com/authors/kilby-blades
Goodread s: https://www.goodreads.com/kilbyblades
Connect with Smartypants Romance
Facebook : http://bit.ly/2kvDnb4
Twitter : http://bit.ly/2lzyduO
Amazon : https://amzn.to/2lGdIMQ
Instagram : http://bit.ly/2kwKsYK
Website : https://smartypantsromance.com/
Newsletter : https://smartypantsromance.com/newsletter/
09:00 Publié dans Silence in the Library | Lien permanent | Commentaires (0) | Tags : kilby bllades, forrest for the trees, smartypants romance |
Facebook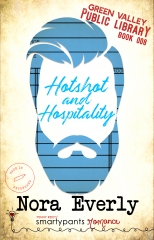 de Nora Everly - SmartyPants Romances 2021

Résumé : Molly Cooper is through with men. She means it this time. Being stood up and humiliated was the last straw.
But after her all grown up and smokin' hot childhood bestie kissed her to help her save face, she's left wondering if it was the tequila or his lips that gave her all the feels.

Garrett Monroe had no intention of falling for his childhood best friend. Unfortunately, one unplanned kiss in a bar was all it took for him to stumble. Now he's stuck with a crush that won't quit on the most stubborn woman he's ever known.

Soon enough they're overwhelmed by out-of-control feelings, one match making momma, and two tight knit families who think they're dating when they're not. Or are they?

Nothing stays secret in Green Valley, Tennessee. Can Molly and Garrett navigate the nosy waters and fall for each other in private?
Or will secrets sink their friendship instead?


J'ai été moins emballée par cette romance, c'était un peu too much dans la mièvrerie pour moi xD ... Ca me dérange pas quand c'est tout mimi tout plein, mais là j'avais l'impression que c'était forcé à certains moments.

Les personnages sont intéressants, leurs histoires personnelles aussi. L'intrigue est pas exceptionnelle, le fake-dating c'est pas nouveau dans la romance... Ce roman ne m'a pas déplu, mais j'ai pas adoré non plus, juste qu'il ne restera pas dans mon souvenir, je pense qu'il sera vite oublié avec le temps malheureusement. Et pourtant, j'avais bien aimé les tomes précédents avec les autres frères Monroe ^^.

Garrett et Molly ont énormément de potentiel, étant amis d'enfance, il y a tout un contexte entre eux, le passage de meilleurs amis à amants en passant par la case "on fait semblant" les chamboule un peu, mais en même temps c'est tellement logique. Enfin c'est logique pour leurs familles, leurs amis, tout Green Valley... sauf eux xD

Je pense qu'au bout d'un moment, j'en avais marre que Molly s'enfonce encore et encore dans son manque de confiance en elle, surtout quand Garrett fait tout pour la rassurer... Bon elle réalise vite son erreur, mais ça aurait pu être éviter, si elle s'était posé 2 secondes pour réfléchir, bref.

Sinon, je kiffe les frères de Molly, je veux leurs histoires (à ceux qui sont pas encore casés) xD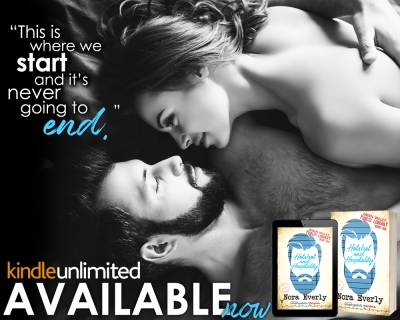 I was less thrilled by this romance, there was a little too much mushiness for me xD... I don't mind when it's all cute and lovely, but here I had the impression that it was forced sometimes.

The characters are interesting, their personal stories too. The plot is not exceptional, fake-dating is not new in romance... I didn't dislike it, but I didn't adore it either, just that it will not remain in my memory, I think it will be quickly forgotten over time unfortunately. And yet, I really liked the previous books with the other Monroe brothers ^^.

Garrett and Molly have a lot of potential, being childhood friends, there is a whole context between them, the transition from best friends to lovers, passing through the "we pretend to date" thing, upsets them a bit but at the same time it makes so much sense. Well, it makes sense for their families, their friends, all of Green Valley... except for them xD

I think after a while, I was weary of Molly drowning in her of self-doubt, especially when Garrett does everything to reassure her... she quickly realizes her mistake, but it could have been avoided if she had taken 2 seconds to think about it before acting on impulse.

Otherwise, I love Molly's brothers, I want their stories (those who are not yet settled) xD


Find Nora Everly online
Facebook : http://bit.ly/2kuJmwL
Twitter : http://bit.ly/2kxjtwa
Amazon : https://amzn.to/2kx2f21
Instagram : http://bit.ly/2kuLMeI
Website : https://www.noraeverly.com/
Connect with Smartypants Romance
Facebook : http://bit.ly/2kvDnb4
Twitter : http://bit.ly/2lzyduO
Amazon : https://amzn.to/2lGdIMQ
Instagram : http://bit.ly/2kwKsYK
Websit e: https://smartypantsromance.com/
Newsletter : https://smartypantsromance.com/newsletter/
08:00 Publié dans Silence in the Library | Lien permanent | Commentaires (0) | Tags : nora everly, hotshort and hospitality, smartypants romance |
Facebook