13/11/2022
Architecture and Artistry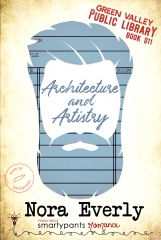 de Nora Everly - Smartypants Romance (2022)

Résumé : Sadie Hill has a lot going on.

New job, twin boys, deadbeat ex, and a mother from hell. Her life is chaos and no matter how hard she holds on, every plan she makes flies straight out of her grasp. The last thing she needs is for her devastatingly hot co-worker to become her new neighbor. A distraction like Barrett does not fit into her precarious plans for the future.

Barrett Monroe has got it going on.

His wicked ex-wife is nothing but a memory, his daughter is back home where she belongs, and he loves his job. His control-freak ways have paid off and he can finally relax into his perfectly scheduled life—alone, just how he wants it. The last thing he needs is an irresistible single mom and her adorable kids to move in next door. Sadie was hard enough to stay away from when she was just his co-worker.

But one night spent stranded in a snowstorm together finds these two sneaking around, sharing stolen kisses, and losing their hearts. Will they give into the flying sparks between them? Or drive each other crazy fighting their feelings instead?


Enfin le tome de Barrett ! Après l'avoir aperçu en personnage secondaire des tomes de ses frères, on savait bien que l'ainé de la fratrie avait beaucoup de potentiel. Et Nora Everly ne nous a pas déçu *-*

Barrett est enfin à un moment de sa vie où tout semble calme : son ex-femme n'est plus qu'un lointain souvenir, sa fille est revenue vivre chez lui, son travail lui plait. Malheureusement pour lui, il n'arrête pas de penser à Sadie depuis qu'elle a emménagé à côté de chez lui. Il pouvait gérer quand il la voyait juste au travail, mais maintenant qu'il la côtoie dans la sphère privée, il ne peut s'empêcher de craquer encore plus pour elle et ses jumeaux terribles.

Sadie, de son côté, peut enfin commencer une vie normale : son divorce est enfin prononcé, et après avoir galéré elle peut enfin offrir une stabilité à ses enfants dans une maison dans sa ville natale, Green Valley. Emménagé avec sa soeur est aussi un avantage pour elle. On me mentionnera pas que Barrett est désormais son voisin, si elle peut éviter de sortir de chez elle en pyjama et les cheveux en bataille ça serait pas mal...

Sadie et Barrett se plaisent depuis longtemps, et maintenant qu'ils sont tous les deux divorcés, qu'est-ce qui les empêcheraient de tenter quelque chose ? Il leur en faut pas beaucoup pour finalement se sauter dessus, parcontre là où il va y avoir des difficultés vont être leurs enfants : les jumeaux sont jeunes et encore traumatisés pas l'abandon de leur père, la fille de 19 ans de Barrett est en pleine crise amoureuse elle aussi. A cela s'ajoute, le retour en ville de l'ex-mari de Sadie qui cherche les embrouilles.

Ce tome propose aussi une belle conclusion pour le clan Monroe avec plusieurs apparitions des 3 autres frères.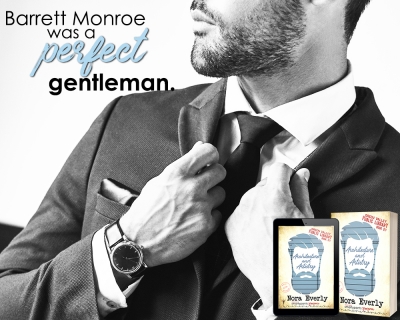 Finally Barrett's Book ! After having seen him as a secondary character in his brothers' books, we knew that the elder of the siblings had a lot of potential. And Nora Everly did not disappoint us *-*

Barrett is finally at a point in his life where everything seems calm : his ex-wife is just a distant memory, his daughter has returned to live with him, he likes his job. Unfortunately for him, he can't stop thinking about Sadie since she moved in next door. He could handle it when he just saw her at work, but now that he's around her in their private life, he can't help but fall for her and her terrible twins even more.

Sadie, for her part, can finally start a normal life: her divorce is done, and after struggling she can finally offer stability to her children in a house in her hometown, Green Valley. Moving in with her sister is also an advantage for her. No one will mention that Barrett is now her neighbor, if she can avoid leaving her house in her pajamas and her hair in disarray that would be great...

Sadie and Barrett have been attracted to each other for a long time, and now that they're both divorced, what's to stop them from trying something? It doesn't take much time for them to finally jump each other, but where there will be difficulties will be their children: the twins are young and still traumatized by the abandonment of their father, Barrett's 19-year-old daughter is in full love crisis too. Added to this is the return to town of Sadie's ex-husband who is looking for trouble.

This volume also offers a nice conclusion for the Monroe clan with several appearances of the 3 other brothers.


Find Nora Everly online
Facebook: http://bit.ly/2kuJmwL
Twitter: http://bit.ly/2kxjtwa
Amazon: https://amzn.to/2kx2f21
Instagram: http://bit.ly/2kuLMeI
Website: https://www.noraeverly.com/

Connect with Smartypants Romance
Facebook: http://bit.ly/2kvDnb4
Twitter: http://bit.ly/2lzyduO
Amazon: https://amzn.to/2lGdIMQ
Instagram: http://bit.ly/2kwKsYK
Website: https://smartypantsromance.com/
Newsletter: https://smartypantsromance.com/newsletter/
16:40 Publié dans Silence in the Library | Lien permanent | Commentaires (0) | Tags : nora everly, architecture and artistry, smartypants romance |
Facebook