05/10/2021
Code of Ethics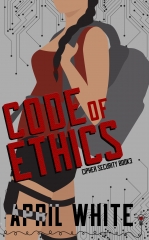 d'April White - SmartyPants Romance 2021

Résumé : There are three things you need to know about Oliver:
1) He's a fabulously wealthy playboy who incidentally happens to be a code-writing genius,
2) For maybe the first time in his life, he's trying to do the right thing, and
3) Someone wants him dead.

Oliver's life has already been saved once by the gorgeous yet grumpy "close protection specialist" provided by Cipher Security, Dallas. She calls him uncooperative. He'd prefer to think of himself as unpredictable and stimulating.

But when an assassin gets way too close for comfort, the party boy is whisked away from the lively city where he's the social king, to the desolate Yukon wilderness where Dallas is a master of survival (and grumpiness). Living wild and isolated reveals several illuminating truths, and suddenly they both find themselves in uncharted territory where grumpy can be sexy, sarcasm might be hot, capable is definitely dangerous, and trust is the strongest survival skill of all.


Au premier contact, il est difficile d'imaginer que Dallas et Oliver finiront ensemble, tellement ils sont à l'opposé l'un de l'autre. Même en tant que lecteur, on se demande ce qui pourra bien se passé pour que ces deux-là amorce une manoeuvre de rapprochement... Il faudra des assassins et une fuite dans le Yukon sauvage.

Quelqu'un veut tuer Oliver pour l'empêcher de diffuser un programme informatique très utile, Dallas est chargée de sa protection rapprochée. Mais quand ils manquent de se faire tuer plusieurs fois, la meilleure solution est d'aller se perdre dans la nature. Dallas emmène donc Oliver dans le domaine de sa famille, au fin fond du Yukon, en plein hiver. Fini le confort de son appartement, Oliver est projeté dans un modeste chalet sans eau courante ni électricité, avec Dallas pour lui apprendre les règles de base de la survie en milieu hostile.

Ai-je précisé au début, que Dallas et Oliver n'étaient pas trop fan de l'un de l'autre ? Tous deux vont devoir mettre leurs opinions de côté, travailler ensemble, se soutenir et se protéger. L'isolation et la proximité forcées, vont les faire s'ouvrir à l'autre et partager plus d'eux-mêmes que ce qu'on voit en surface. Il y a plus de profondeur et de blessure derrière l'image d'enfant gâté d'Oliver ; il y a plus de vibrance et d'émotions dans le coeur de Dallas derrière cette attitude distante et glaciale.

La famille de Dallas est issue des Premières Nations du Canada, lorsqu'Oliver se prépare à la rencontrer, il demande à Dallas de lui raconter son histoire : les traditions, le mode de vie, les évènements tragiques... Dès qu'ils arrivent dans le Yukon, on fait connaissance avec le conte du loup et du corbeau, je vous laisserais découvrir le rapprochement avec nos héros ;)

Je dirais que pour ce romantic suspense, c'est pas tant la romance le plus intéressant, mais plus l'histoire de vie des personnages et en particulier celle de Dallas : son rapport à son identité, les liens avec sa famille.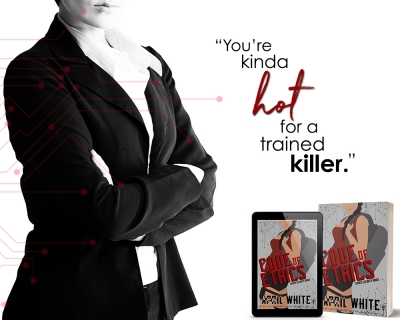 In the beginning, it's hard to imagine that Dallas and Oliver will end up together, as they are so opposed to each other. Even as a reader, one wonders what could possibly happen for these two to initiate a "get closer" maneuver... It will take assassins and an escape into the wild Yukon.

Someone wants to kill Oliver to prevent him from broadcasting a very useful computer program, Dallas is in charge of his close protection. But when they nearly get killed several times, the best solution is to go get lost in nature. Dallas takes Oliver to her family's home ground, deep in the Yukon, in the middle of winter. No more comfy apartment, Oliver is thrown into a modest cabin with no running water or electricity, with Dallas to teach him the basic rules of survival in a hostile environment.

Did I say, that Dallas and Oliver weren't too much of a fan of each other ? Both will have to put their opinions aside, work together, support and protect each other. The forced isolation and proximity will make them open up to each others and share more of themselves than what we see. There is more depth and hurt behind Oliver's spoiled child image ; there is more vibrance and feelings in the heart of Dallas behind this her distant and icy attitude.

Dallas' family is from the First Nations of Canada, when Oliver is about to meet them, he asks Dallas to tell him her story: the traditions, the way of life, the tragic events... As soon as they arrive in the Yukon, we learn the tale of the wolf and the raven, I'll let you discover the connection with our heroes ;)

I would say that for this romantic suspense, the romance isn't the most interesting bit, but the life story of the characters and in particular Dallas' stoty : her connection to her identity, the links with her family.
Read Code of Ethics TODAY !
Amazon US : https://amzn.to/2W0kaRm
Amazon UK : https://amzn.to/3yPk4dR
Amazon CA : https://amzn.to/3xoY4VF
Amazon AU : https://amzn.to/2TXKBGC
AppleBooks : https://apple.co/3luYkA7
Nook : https://bit.ly/3inehX3
Kobo : https://bit.ly/3fvld2h
Google Play : https://bit.ly/2TSH1xk
Add to Goodreads : https://bit.ly/3yR8yOP
Start the Cipher Security Series of standalones TODAY !
https://smartypantsromance.com/worlds/seduction-in-the-ci...
08:00 Publié dans Silence in the Library | Lien permanent | Commentaires (0) | Tags : april white, code of ethics, smartypants romance |
Facebook