31/03/2021
Give Love Chai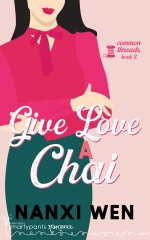 de Nanxi Wen (2021) Smartypants Romance

Résumé : Tia Wang's Wedding Planning To-Do List :
1. Find the perfect dress
2. Win her future mother-in-law's approval
3. Divorce her not-so-ex husband, Andrew Parker

When she fell in love and married her childhood best friend on a whim in Vegas, Tia innocently thought love conquered all. Turns out, that was a crushing lie. Her world shattered as she and Andrew were torn apart by secrets and mistakes. Ten years later, Tia has left the pain behind and carved out a new life with Mr. Perfect. The only thing standing between her and happily ever after? A divorce from Andrew.

It should have been easy for Andrew to sign his name on the dotted line. Independent, prickly, and always in control, Andrew has done everything to escape his past. But seeing Tia on his doorstep after all these years? He can't help wondering what might have been. Andrew has never forgotten Tia and vows to fight for their relationship this time around. If he has to hold those divorce papers hostage to get his second chance, he will.

Feelings resurface, stronger and more complex than ever. But Tia and Andrew have more than Mr. Perfect between them. Can they overcome past mistakes to forge a future together, or will new threats ruin their second chance at forever ?


J'ai un avis très partagé sur cette romance, même si je l'ai globalement bien aimé, j'ai trouvé qu'il y avait quand même des éléments un peu too much, et qu'Andrew avait bien besoin d'une bonne claque à un moment xD.

Le point de départ est assez intéressant : Tia veut se marier à Clayton, sauf qu'elle découvre qu'elle est toujours mariée à son amour de jeunesse Andrew, qu'elle n'a pas vu depuis 10 ans, ce divorce n'a jamais été finalisé... Donc Tia va voir Andrew pour lui donner les papiers à signer, et là problème : revoir Andrew réveille d'un coup ses anciennes passions et elle part précipitamment sans les papiers xD. Du coup, cette fois c'est Andrew qui se déplace pour aller la voir, tombe sur Clayton et réalise que non il peut pas signer ces papiers, il aime encore Tia ! Clayton devine l'embrouille et va laisser du temps à Tia pour qu'elle fasse son choix (le pauvre, il a pas le bon rôle, mais il est pas non un méchant).

Andrew va avoir 2 semaines pour convaincre Tia que leur histoire n'a jamais été terminée, que leurs erreurs d'ados peuvent être réparé maintenant qu'ils ont tous les deux grandit. Ils vont avoir beaucoup à se dire, ils avaient de gros problèmes de communication à l'époque et des anciennes blessures vont ressortir.

J'ai apprécié que Tia et Andrew galèrent quand même une fois qu'ils commencent à parler, quand ils apprennent les raison du quiproquo qui les a fait se séparer. Ce sont des êtres humains avec la présence d'esprit de ne pas être dans la rancoeur et d'admettre leur erreurs respectives.

Ce que j'ai trouvé too much dans ce roman, c'est tout le bin's avec le papa d'Andrew, je pense qu'il avait pas besoin de réapparaitre à la fin, que l'histoire pouvait se clôturer sans cette mini intrigue qui sortait de nulle part.

************

I have a very divided opinion on this romance, even if I liked it, there were still elements a little bit too much, and Andrew really needed a good slap at one point xD.

The starting point is quite interesting : Tia wants to marry Clayton, except that she finds out that she is still married to her childhood sweetheart Andrew, whom she has not seen in 10 years, their divorce has never been finalized... So Tia goes to Andrew to give him the papers to sign, and problem : seeing Andrew awakens her old passions and she leaves hastily without the papers xD. So this time it's Andrew who goes to see Tia, comes across Clayton and realizes that he can't sign these papers, he still loves Tia ! Clayton guesses the mess and gives Tia time to make her choice (poor man, he doesn't have the right role, but he's not a bad guy either).

Andrew has 2 weeks to convince Tia that their relationship and marriage were never over, that their teenage mistakes can be fixed now that they have both grown up. They are going to have a lot to say to each other, they had big communication problems at the time and old wounds will emerge.

I appreciated that Tia and Andrew still struggle once they start talking, when they learn the reasons for the misunderstanding that caused them to break up. They are human beings with the presence of mind not to be resentful and to admit their respective mistakes.

What I found too much in this novel is all the bits with Andrew's dad, I think he didn't need to reappear at the end, that the story could have ended without this mini plot that came out of nowhere.
08:00 Publié dans Silence in the Library | Lien permanent | Commentaires (0) | Tags : give love chai, nanxi wen, smartypants romance |
Facebook