13/06/2016
Grin and Beard It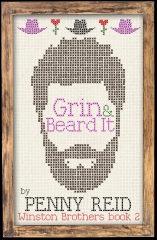 de Penny Reid (2016).

Présentation de l'auteur : Sienna Diaz is everyone's favorite "fat" funny lady. The movie studio executives can't explain it, but her films are out-grossing all the fit and trim headliners and Hollywood's most beautiful elite. The simple truth is, everyone loves plus-sized Sienna.

But she has a problem, she can't read maps and her sense of direction is almost as bad as her comedic timing is stellar. Therefore, when Sienna's latest starring role takes her to the Great Smoky Mountains National Park she finds herself continually lost while trying to navigate the backroads of Green Valley, Tennessee. Much to her consternation, Sienna's most frequent savior is a ridiculously handsome, charming, and cheeky Park Ranger by the name of Jethro Winston.

Sienna is accustomed to high levels of man-handsome, so it's not Jethro's chiseled features or his perfect physique that make Sienna stutter. It's his southern charm. And gentlemanly manners. And habit of looking at her too long and too often.

Sienna has successfully navigated the labyrinth of Hollywood heart-throbs. But can she traverse the tenuous trails of Tennessee without losing her head? Or worse, her heart ?




2e opus de la série des frères Winston de Penny Reid, après Duane voici donc l'histoire de Jethro, l'aîné de la fratrie ♥.

Un beau jour, notre Park Ranger préféré va venir en aide à une demoiselle en détresse. Celle-ci est en train de réduire à néant sa carte routière en lui sautant dessus et en maudissant son mauvais karma. Sienna tombe immédiatement sur le charme de ce grand barbu au sourire ravageur, qui flirte sans vergogne et qui la considère comme une femme normale... Oui parce que Sienna a une "identité secrète" : c'est une actrice-scénariste hyper connue... Sauf de Jethro, qui se sent absolument pas concerné par les people d'Hollywood xD . Et donc ces deux-là flirtent tant qu'ils peuvent, et ça passe bien, ça passe tellement bien que Sienna a des remords de lui avoir caché qui elle est.

Vous vous dites surement que là, on aura la révélation à la fin du romance avec plein de retournements de situation... Non, point du tout, comme dans d'autres de ses romans, Penny Reid ne tombe pas dans le cliché : Jethro va apprendre qui est vraiment Sienna, et assez tôt.

L'histoire de Sienna et Jethro c'est deux personnes venant d'univers totalement différents, qui vont devenir fous l'un de l'autre et qui vont devoir se poser des questions pas simples, afin de se donner une chance. Le passé de Jethro n'est pas glorieux pour la carrière de Sienna, et celle-ci amène toute la presse people avec elle dans une petite ville tranquille du Tennessee.

Outre Jethro, on a plein de Cletus dans ce tome ♥ et quelques passages intenses avec Billy ♥ (rhaaaa vivement son tome à lui, mais ce sera le dernier grrrrr xD).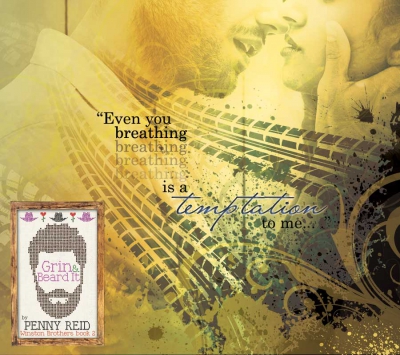 This is the second book in the Winston Brothers series by Penny Reid, after Duane here is the story of Jethro, the eldest brother ♥.

One day, our favorite Park Ranger help a damsel in distress. She is destroying her map by jumping on it and cursing her bad karma. Sienna immediately falls for this great bearded man with a killer smile, flirting shamelessly with her and who treats her like a normal woman... Because Sienna has a "secret identity" : she is a Hollywood-famous writer and actress... Except Jethro is absolutely not concerned by Hollywood xD. And so the two of them flirt as much as they can, and it works well, it goes so well that Sienna has remorse lying to him.

You probably think that we will have the revelation at the end of the bokk with lots of twists... No, not at all, as in other of her novels, Penny Reid does not fall into the cliche : Jethro will learn who is really Sienna soon enough.

Sienna and Jethro's history is about two people from completely different worlds, who will become crazy about each other and will have ask themselves hard questions in order to give them a chance. Jethro's past is not glorious for the career of Sienna, and she brings all the tabloids with her in this small quiet town of Tennessee.

In addition to Jethro, this book was full of Cletus ♥ and some intense passages with Billy ♥ (rhaaaa I can't wait for his book, but it will be the last grrrrr xD).


About Penny Reid

Penny Reid is the USA Today Best Selling Author of the Winston Brothers and Knitting in the City series. When she's not immersed in penning smart romances, Penny works in the biotech industry as a researcher. She's also a full time mom to three diminutive adults, wife, daughter, knitter, crocheter, sewer, general crafter, and thought ninja.
Website | Goodreads | Facebook | Twitter | Newsletter
09:00 Publié dans Silence in the Library | Lien permanent | Commentaires (0) | Tags : penny reid, grin and beard it |
Facebook