30/08/2011
Continuons nos aventures théâtresques...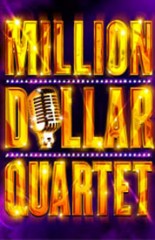 Million Dollar Quartet, au Noel Coward Theater.

Présentation de la production : MILLION DOLLAR QUARTET tells the electrifying story of the night Elvis Presley, Johnny Cash, Carl Perkins and Jerry Lee Lewis came together to make music, and ended up making history. Inspired by the actual event, that took place on 4 December 1956 at Sun Records in Memphis, this ecstatic and engaging musical is a story of fame, friendship, discovery, professional jealousy and incredible music as four of the music industry's most extraordinary talents, all in their creative prime, made music together for the first and only time in their careers.

The legendary meeting was masterminded by Sun Records' founder Sam Phillips, who discovered all four of the musicians, and brought Elvis Presley (and his then girlfriend) back to the recording studio that launched him to stardom. Together with Sun Records' fast-rising new superstar Johnny Cash and Carl Perkins, who was still chasing his next big hit after writing and recording Blue Suede Shoes, the fourth member of this impromptu "quartet" was Phillips' latest signing, Jerry Lee Lewis.

Oh la la la ! Oh la la la ! Une pure merveille *-*, on était assises au 3ème rang, autant dire qu'on avait une vue extraordinaire sur les acteurs et leurs instruments... Je parle des GUITARES (bande de pervers xD). Cette pièce est un bijou musical, et c'est même pas grave si on connait pas vraiment par coeur toutes les chansons du Quartet, parce qu'on passe tout notre temps à danser sur notre siège... Pour finir debout à swinger comme une malade (enfin essayer de mover son body de manière digne xD).

Les acteurs sont tous parfait dans leur rôle, leur façon de chanter, de bouger, de jouer colle au plus près de leurs illustres personnages... Et puis alors que dire du final en costume à paillettes, genre la paillette ici c'est trop la classe *-*.

- Stalkage à la stage door : Epic Win ! On a eu Elvis, Jerry Lee Lewis et Carl Perkins... Johnny Cash pourquoi as-tu du partir si rapidement ? T-T
- Taux d'explosion hormonale : 12000/5 - ouais ouais les ptits chanteurs de rock à guitare c'est irrésistible...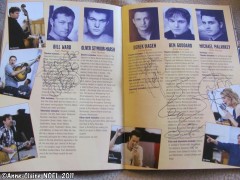 Hiiiiiii c'est beau quand c'est signé partout *-*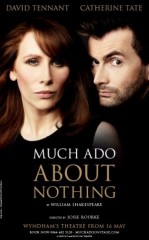 Much Ado About Nothing, au Wyndhams Theater.

Présentation de la production : Two young lovers Claudio and Hero are to be married imminently but the devious scheming of a resentful Prince looks set to thwart the nuptials. Meanwhile, marriage seems inconceivable for reluctant lovers Beatrice and Benedick whose endless witty sparring threatens to keep them apart forever.

Directed by Josie Rourke, Artistic Director of the Bush Theatre, Much Ado About Nothing is one of Shakespeare's great plays and reminds us all of the failings and triumphs of the human condition in our never ending search for perfect love.

AAAAaaaaaAAAaaaaAAAaaaa... aaah.

Oui, je crois que ça résume bien mon impression générale. MAIS COMME C'ETAIT TROP BIIIIIIEN *-*. Ya beaucoup de chose qui sont la vie : les uniformes, les épées, les voitures de golf, les Doc'Martin rouges, les bas résilles, les perruques blondes, les tshirt Superman, la peinture, la peinture sur le tshirt Superman, les costumes, les déguisements Starwars, l'accent écossais... etc.

Mon coeur a fait boom-boom pour David Tennant, je l'ai vu de mes yeux en vrai à 1m de moi, c'est... piouf ! Pando peut témoigner, j'avais des coeurs à la place des yeux toute la soirée et plus xD. Je kiffe aussi Catherine Tate *-* même si elle fait une Beatrice *catherine-tatienne* moi j'ai aimé ^^ . Et le méchant il était bien marrant, et le ptit n'enfant déguisé en Mario il était choupi ^^

- Stalkage à la stage door : Epic Win bis ! On l'a fait la veille après le Quartet, on eu nos programmes signés par les deux, mais pas de photos on était pas engluée à la barrière, seules les crustacés vivant sur le métal ont cette chance xD mais j'ai pu avoir de bonnes photos donc I'm so very happy :')
- Taux d'explosion hormonale : euh... est-il nécessaire de le préciser/5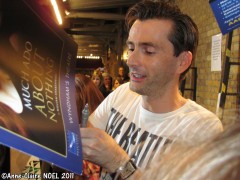 Les deux bouts de programmes sur la photo ce sont ceux de Pando et moi *ouh yeah* ^^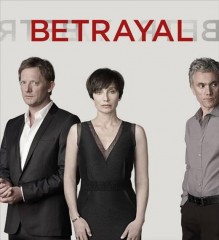 Betrayal, au Comedy Theater.

Présentation de la production : "I've always rather liked Jerry. To be honest, I've always liked him rather more than I've liked you. Maybe I should have had an affair with him myself" Robert, Betrayal.

Sometimes you'll find there can be three people in a marriage… Over a period of nine years, we are shown the high price of passion and the damage inflicted by desire. Harold Pinter's remarkable play explores how our loves and our losses echo and accumulate through time.

Au départ on voulait voir cette pièce pour Nick Cutt... euh Douglas Henshall xD, et voyant le résumé on s'est dit qu'on irait la voir l'après-midi, comme ça parle de trahison et de rupture ça avait l'air un peu dépressif et on voulait passer la soirée sur une note joyeuse. Au final, c'était pas mal et beaucoup moins triste qu'on l'avait imaginé et c'est parfois même assez drôle. L'histoire est racontée à rebours en différent panneaux sur les scènes importantes de cette relation à 3.

Je l'ai déjà dis l'accent écossais c'est la vie hein : Douglas *coeur coeur coeur* joue l'amant (on comprend huhu) et meilleur ami du mari, qui nous fait une déclaration d'amour magnifique alors qu'il est saoul ^^. Ben Miles, le mari donc, est très bien lui aussi (sauf qu'il a pas les cheveux gris comme sur l'affiche xD), c'est de lui que viennent les vannes dans l'histoire. Kristin Scott Thomas porte la pièce et la tromperie sur ses épaules, son personnage ne fait pas toujours les meilleurs choix ce qui la rend plus attachante... Et on ne peut pas lui en vouloir d'avoir craqué sur Douglas xD.

- Stalkage à la stage door : encore un Epic Win ! Nous avons eu une photo avec Douglas et une petite signature de Kristin. Ben est parti comme une flèche avec son pote...
- Taux d'explosion hormonale : l'écossais est hors barème *-*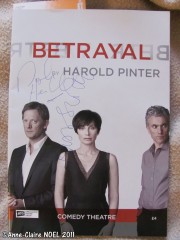 Kristin a écrit sur la signature de Douglas xD
12:21 Publié dans Travelling through Time and Space | Lien permanent | Commentaires (4) | Tags : million dollar quartet, elvis, johnny cash, carlperkins, jerry lee lewis, much ado about nothing, david tennant, catherine tate, betrayal, douglas henshall, kristin scott thomas, ben miles, londres |
Facebook