23/03/2021
Weight of wrath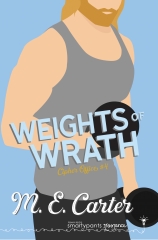 de M.E. Carter (2021) Smartypants Romance

Résumé : Rosalind Palmer was blessed with the perfect stage name. Or so she's been told. There are just a few problems with it:
1) Her family doesn't know she's a stripper
2) She'd like to keep it that way
3) She got over the nickname somewhere around seventh grade.
Unfortunately—because she likes her job and she really likes her independence—her unexpected pregnancy means Rosalind's days on a pole are numbered. Even so, she's determined to make this co-parenting thing work.

Joey Marshall never thought much about having kids until he got the text announcing his impending fatherhood. Now it's all he can think about. But there are a few concerns:
1) He doesn't know anything about babies.
2) Adulting usually leads to disaster.
3) It's his best friend's cousin he knocked up.
First things first, making sure his baby's mama is in this for the long haul. Because now he's got baby on the brain, he can't wait to make this co-parenting thing into so much more.

Now all he has to do is convince Rosalind, which shouldn't be too hard . . . right?


Dans ce roman, nous retournons à Weight Expectations, la salle de gym où se sont croiser plusieurs de nos héros des tomes précédents. Celui-ci nous raconte l'histoire de Joey, le meilleur pote d'Abel, qui travaille lui aussi en tant que coach. Sa vie va prendre un tournant radical lorsque son dernier "rencart d'un soir" lui annonce être enceinte.

Rosalind est stripteaseuse et malgré tous les préjugés de sa famille, elle aime son boulot : pour elle c'est un mélange de performance artistique et sportive, elle est plutôt douée au pole dance, oui elle le fait dénudé, et alors ? Un soir elle est repartie avec Joey, car il était gentil et il avait autre chose dans le regard que tous les autres clients. Parcontre elle ne pensait pas tomber enceinte... (précision : tous les deux s'étaient protégés)

Elle n'imaginait pas non plus la réaction de Joey, qui passé le choc, se tranforme en futur papa prêt à vivre cette aventure avec elle. Joey et Rosalind vont devoir apprendre à se connaitre avant de rencontrer leur bébé.

Cette romance n'est pas hyper couinante, mais si comme moi vous êtes pas fan des romances mit bébé surprise, elle a quand même le mérite de ne pas nous saouler niveau "baby stuff". Oui, on suit les étapes de la grossesse, mais ça sera toujours en lien avec les petits pas de la relation entre Rosalind et Joey. Ils vont certes devenir parents, mais ils vont aussi tomber amoureux pour eux et pas uniquement à cause du bébé.
L'auteur évoque aussi le sujet de la dépression post-partum, un sujet sérieux pas forcément glamour dans ce type de romance, qui est traité ici avec justesse.

En conclusion, une romance sympathique, mais à laquelle j'ai pas autant accroché.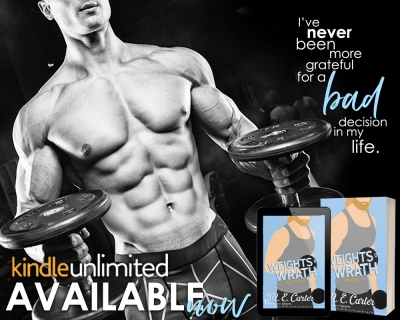 In this novel, we return to Weight Expectations, the gym where several of our previous books heroes met. This one tells us the story of Joey, Abel's best mate, who also works as a coach. His life will take a radical turn when his last "one-night stand" announces that she is pregnant.

Rosalind is a stripper and despite all her family's prejudices, she loves her job : for her it's a mixture of artistic and sporting performance, she is rather good at pole dancing, yes she does it half naked, so what ? One evening she left with Joey, because he was nice and he looked at her in a different way than all the other customers. But she didn't think she was going to get pregnant... (important detail : both of them had contraception).

She also did not imagine the reaction of Joey who, passed the shock of the news, turns into a future dad ready to live this adventure with her. Joey and Rosalind will need to know each other before they meet their baby.

This romance isn't super swooning, and like me, if you are not a fan of baby surprise romances, it still has the merit of not having to much "baby stuff" in it. Yes, we follow the stages of pregnancy, but it will always be related to the small steps of Rosalind and Joey's relationship. They will certainly become parents, but they will also fall in love because of each other and not only because of the baby.
The author also evokes postpartum depression, a serious subject not necessarily glamorous in this type of romance, which is treated here with sensitivity.

In conclusion, a nice romance, but one I wasn't into very much.
Find M.E. Carter online
Facebook: http://bit.ly/2ly7Fu3
Twitter: http://bit.ly/2lzBqdQ
Amazon: https://amzn.to/2k4SZCf
Instagram: http://bit.ly/2k1O4Sx
Website: https://www.authormecarter.com/
Connect with Smartypants Romance
Facebook: http://bit.ly/2kvDnb4
Twitter: http://bit.ly/2lzyduO
Amazon: https://amzn.to/2lGdIMQ
Instagram: http://bit.ly/2kwKsYK
Website: https://smartypantsromance.com/
Newsletter: https://smartypantsromance.com/newsletter/
08:00 Publié dans Silence in the Library | Lien permanent | Commentaires (0) | Tags : weigth of wrath, m.e. carter, smartypants romance |
Facebook