31/07/2020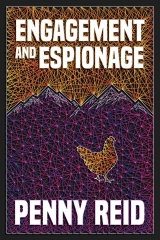 de Penny Reid (2020)

Résumé : Jennifer Sylvester made her deal with the devil . . . and now they're engaged !
But all is not well in Green Valley. A chicken choker is on the loose, 61 dead birds most "fowl" need plucking, and no time remains for Jennifer and her devilish fiancé. Desperate to find a spare moment together, Jenn and Cletus's attempts to reconnect are thwarted by one seemingly coincidental disaster after another. It's not long before Cletus and Jenn see a pattern emerge and the truth becomes clear.
Sabotage!
Will an undercover mission unmask the culprit? Or are these love-birds totally plucked ?


Si vous faites partie de celles qui ont besoin d'une dose supplémentaire de Cletus Winston dans leur vie, ce livre est fait pour vous : c'est un mixte entre le cosy mystery et la romance, dans la suite direct du tome de Cletus et Jennifer (Beard Science), il vaut mieux l'avoir lu avant de vous plonger dans celui-là, sinon beaucoup de choses vont vous échapper.

Branle-bas de combat à Green Valley après que des poules d'un éleveur soient sauvagement assassinées. Ce sont leurs oeufs que Jennifer utilise pour ses pâtisserie, très vite d'autres de ses producteurs fétiches vont avoir des déconvenues et cela devient vite un drame pour son activité (en plus de celle des producteurs hein ne l'oublions pas xD). Alors que le chérif et ses adjoints doivent se concerntrés sur des affaires impliquant biker, Cletus et Jennifer décident de tout faire pour résoudre le mystère qui leur tombe dessus et qui en est responsable... Très vite plusieurs personnes sont suspectées, restent à Cletus et Jenn a rassembler les preuves discrètement.

Outre cette affaire à élucider, ce roman nous offre une vraie suite de Beard Science, en nous montrant Jenn et Cletus dans les premiers temps de leur relations, avec tous les nouveaux challenges que cela représente pour chacun d'eux. Malgré l'ambiance légère et un peu loufoque du roman, il y a quand même de sérieuses étapes de couple qu'ils vont devoir passer ensemble, des discussions importantes et, comme son nom l'indique, des engagements à prendre !

Ce roman montre aussi comment la relation entre Jennifer et sa mère évolue. On a pu avoir des infos furtives dans les tomes des Winston, ici on approfondi les choses. Penny Reid nous donne aussi quelques scènes entre frères qui sont toujours adorables (Billy, soupirs...).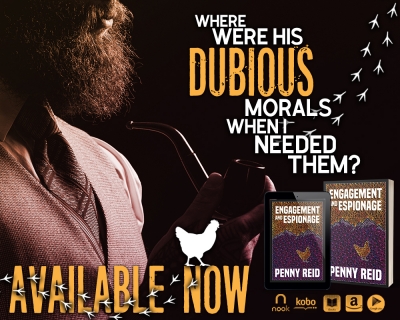 If you are one of those who needs an extra dose of Cletus Winston in their life, this book is for you : it's a mix between cozy mystery and romance, it directly follows Cletus and Jennifer's book ( Beard Science ), you better read it before you dive into this one, otherwise you might not understand some things.

Uproar in Green Valley after a breeder's hens are brutally murdered. It's their eggs that Jennifer uses for her pastry, very quickly other of her favorite producers will have troubles and it quickly becomes a tragedy for her activity (in addition to that of the producers let's not forget xD). While the sheriff and his assistants must work on matters involving biker, Cletus and Jennifer decide to do everything to solve the mystery that falls on them and find the culprit... Very quickly several people are suspected, Cletus and Jenn must discreetly gather the evidence.

In addition to this mystery to be elucidated, this novel offers us a real sequel to Beard Science, showing us Jenn and Cletus in the early stages of their relationship, with all the new challenges that this represents for each of them. Despite the light and a little wacky atmosphere of the novel, there are still some serious couple stages that they will have to go through together, important discussions and, as the name suggests, engagement to make !

This novel also shows how the relationship between Jennifer and her mother evolves. We were able to get some sneaky info in the Winston tomes, here we dig deeper. Penny Reid also gives us some scenes between the brothers who are always adorable (Billy, sighs...).


Connect with Penny:

Facebook: https://www.facebook.com/PennyReidWriter/
Amazon: http://amzn.to/2lakzsD
Twitter: @ReidRomance
Mailing List: http://pennyreid.ninja/newsletter/
www.pennyreid.ninja


18:13 Publié dans Silence in the Library | Lien permanent | Commentaires (0) | Tags : penny reid, engagement and espionage |
Facebook