07/10/2014
A Little Something Different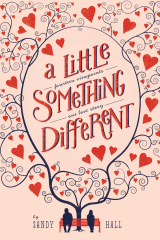 de Sandy Hall - 2014.
Présentation de l'éditeur : The creative writing teacher, the delivery guy, the local Starbucks baristas, his best friend, her roommate, and the squirrel in the park all have one thing in common—they believe that Gabe and Lea should get together. Lea and Gabe are in the same creative writing class. They get the same pop culture references, order the same Chinese food, and hang out in the same places.
Unfortunately, Lea is reserved, Gabe has issues, and despite their initial mutual crush, it looks like they are never going to work things out. But somehow even when nothing is going on, something is happening between them, and everyone can see it. Their creative writing teacher pushes them together. The baristas at Starbucks watch their relationship like a TV show. Their bus driver tells his wife about them. The waitress at the diner automatically seats them together. Even the squirrel who lives on the college green believes in their relationship.
Surely Gabe and Lea will figure out that they are meant to be together....
Le concept de base de ce tout petit roman (à peine 140 pages - et encore ya plein de bonus dans l'ebook, donc il fait encore moins de pages que ça) m'a tout de suite séduite : suivre une romance choupinette à travers 14 points de vues, 14 témoins plus ou moins impliqués au départ et qui vont se passionné par l'histoire qui se vie sous leur yeux.
J'ai littéralement craquée. Je pourrais pas en dire plus, ce serait vous mettre un gâteau au chocolat sous le nez et vous dire "pas touche c'est pour le boulot demain", je vous vois déjà les yeux humides suppliant "gardes-en moi un bout" et moi de dire "je sais pas s'il en restera" puis de voir la fin du monde dans vos yeux... #jesuisgrave.
Je ferais bien les yeux doux à Sam le grand frère de Gabe ; j'ai pouffé de rire tant que j'ai pu devant les réactions de Victor le "jerk" lors du Midnight Breakfast ; Casey ♥ ; Danny ♥ ; la Barista qui explique le ship à son collègue ; la prof ♥ ; mais sourtout les deux points de vu non-humain : écureuil et le banc #carrément.
Ce bouquin ne prend pas la tête, sans chi-chi, on en ressort avec le sourire et on peut voir des coeurs s'échapper de chaque pages... Limite après on a envie que d'arc-en-ciel et de bébés chats xD mais c'est pas gnan-gnan ! Enfin bref, ça fait gazouiller et c'est tellement dommage que ce soit aussi court...
20:36 Publié dans Silence in the Library | Lien permanent | Commentaires (0) | Tags : sandy hall, a little something different, lea, gabe |
Facebook